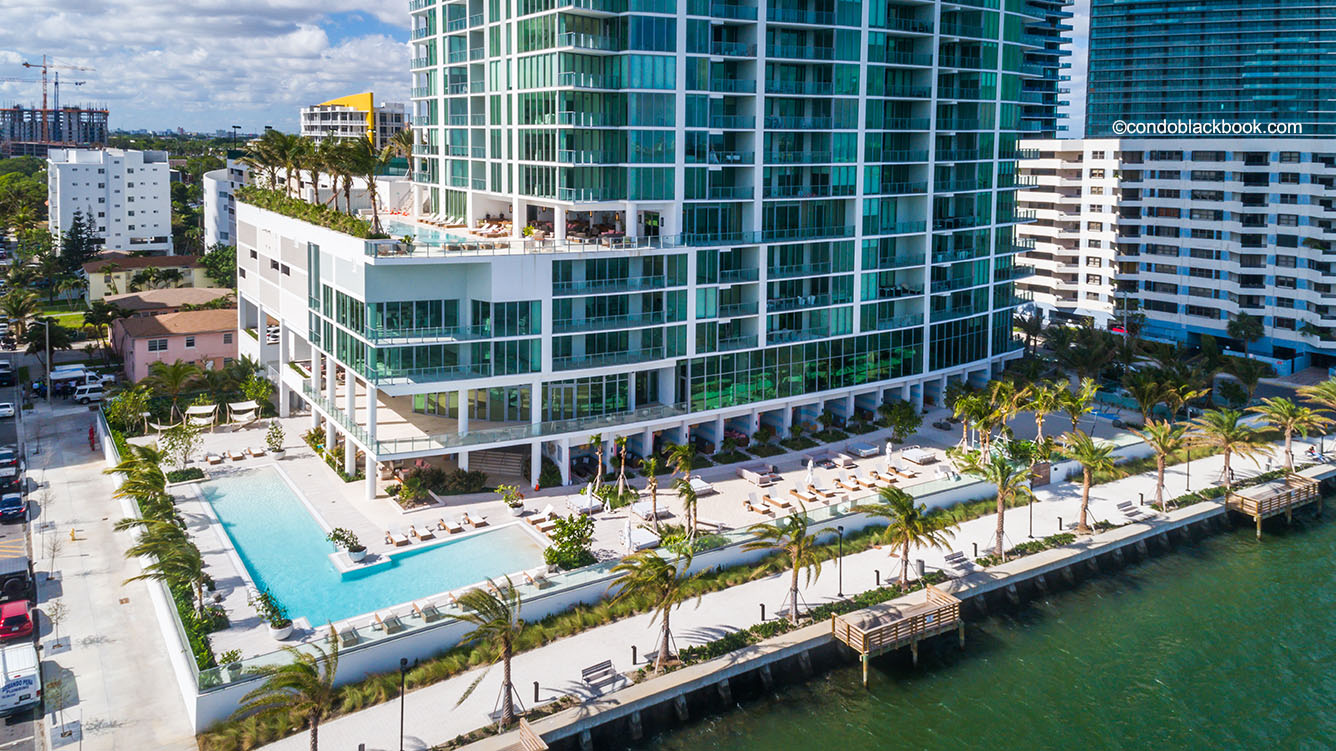 Biscayne Beach
Biscayne Beach is a 399-unit luxury condominium tower being developed by a joint venture between Eastview Development and GTIS Partners in Miami's East Edgewater neighborhood. Upon completion in 2016, the 52 story high-rise, directly on the water, "Brings the beach to the city," boasting Miami's newest beach club on the Bay.
Biscayne Beach will offer 399 luxury residences, ranging from one- to four-bedroom layouts with den options as well as exclusive penthouses with private rooftop garden terraces. All units will include floor-toceiling glass windows, oversized balconies, and will boast sweeping views of Biscayne Bay, Miami Beach and the city skyline.
Construction will get underway in the first quarter of 2014 and is slated for completion in 2016.
Preconstruction prices range from the $400,000's to multi-million dollar penthouses.
RESIDENCE FEATURES
Floor plans ranging from 885 to 3789 SF

One- to four-bedroom layouts with den options

6 floors of penthouse residences featuring large terraces and outdoor summer kitchens

Exclusive upper penthouse residences feature private rooftop garden terraces and vaulted ceilings

4 Owner Guest Suites available for rent

All residences feature both sweeping beach, Bay and city views

Floor-to-ceiling impact glass windows and doors with oversized balconies
BEACH CLUB LEVEL AMENITIES
335 linear feet of land directly on the water

Zero entry beach club pool

6 private residence pools

Beach club bar

Beach cabanas and lounge areas

Cabana / towel service

Water sports storage

Jet skis, paddle boards, kayaks, rafts, and

snorkeling equipment available

Swimming pier and dock

Fire pit

Beach volleyball court

Private outdoor event space
LOBBY LEVEL AMENITIES
Private entrance for residents and beach club members

Indoor / outdoor club bar

High-end restaurant with separate restaurant entrance

Secured covered parking

Valet service

Owners club including fitness center / spa

Beauty salon

Art gallery

Business center
RESIDENTS CLUB FLOOR AMENITIES
2 tennis courts

Basketball court

Residence park

Great room including library, theater, and pool tables

Tot / teen room
PRICES RANGES
1 BED + DEN from

$446,900

to

$699,900

2 BED +DEN from

$475,900

to

$969,900

3BED + DEN

$995,900

to

$1,520,900

PH units starting at

$2,047,900
Biscayne Beach Podium Pricing, Just Released Units, Best Prices!
*Prices subject to change without prior notice
Biscayne Beach PHOTOS
| | |
| --- | --- |
| | As the property value of real estate in Miami is constantly going up, a new luxury condo tower is already underway in East Edgewater. |
| | |
| --- | --- |
| | Creators of the renowned Biscayne Beach have obtained a $120 million construction loan for the development of the upcoming condo tower. |

New Massive Apartment Project, Square Station, Coming Near the Arsht Center

$21 Million Gets I-95 A New Sculpture In New Public Benefits Deal

Met Square Now Building Theater and Restaurants on the Site

95% of All Units Have Been Sold at the Soon-to-Be-Finished Biscayne Beach Luxury Condo Tower

All Aboard Florida Released Plans for Extravagant Parking Garage for MiamiCentral Terminal

New Plans to Convert Biscayne Boulevard into Scenic Park to the Bay

New Twin Tower Planned Near Miami River

Arquitectonica Leader Poised As Lobbyist For Resorts World Miami Casino?

Miami Mayor Might Veto Plans for Tri-Rail's Station in Downtown

Russian Investors Contract Biscayne Property and Plan a 60-Story Tower

New Signature Bridge Accelerated, but the Metromover Now Needs Relocation

Archaeological Dig in Met Square Believed to Be Proof of Rising Sea Levels in Miami

Developer Announces Plans for 429-Unit Project on Biscayne Boulevard

ULTRA Music Festival Miami: The Undisputed King of EDM Festivals Is Back

Top Five Ways to Fix the Traffic Problems in Miami

New 70,000 Square-Foot Production Space Project Breaks Ground

Melo Group Is Planning and Opening Over 2,000 Units in Miami within the Next Two Years

Whole Foods Opening January 14 in Downtown Miami

Biscayne Boulevard's Latest Project Planned Only Two Months After Purchase

Residents of Downtown Miami Are Getting Younger

Frost Miami Science Museum Takes Shape

Historic Church in Edgewater sold for $14.3 million

Bayside PAC Campaign Ignores SkyRise but Emphasizes Renovations

New Courthouse Location Up for Grabs, Macy's is a Possibility

Proposed Stylish Museum Building on Biscayne Boulevard

New Rail Station Could Revitalize Downtown as an Urban Hub

An Abandoned Office Tower Project Sells for $12.5 Million

Plans for 40-Story Tower near the Omni Area

Plans Submitted for Residential Tower that Will Overtake a Historic Property on Biscayne Boulevard

Biscayne Beach Condo Tower Receives a $120 Million Construction Loan

Midtown Property Sold to Developer for $12.25 Million

Design District Mixed-Use Development Scratched and Replaced with a Condo Tower

Architect Sues SkyRise in Opposition of the Development

Kubik Site Switches Hands, New Mixed-Use Project Planned

Prime FedEx Property Sold for $19 Million

Metal Clad Design Revealed for Met 3 Garage

Rail Station Unanimously Approved for Downtown Miami

Related Announces Two Condo Projects Are Being Topped Off

Downtown site Sold for $80 Million

Changes to Canvas Project Approved by Miami Board

Related Group Plans for Hyde Midtown Revealed

New Condo Developments in Wynwood Complete District's Ecosystem

Flagler Street Renovation Funding Approved

Melo Group Plans to begin Presales for Aria on the Bay next month

Biscayne Beach Groundbreaking already underway

Max Miami Revitalized as Residential Development after Seven Years

A Slam Dunk Deal Renews the Miami Heat's Arena Lease

The $1 billion PortMiami Tunnel opening to the public today

Parking Garage Selling Price Revealed

Miami Mayor Suggests Waterfront Soccer Stadium

Groups Bid $100 Million on a Downtown Miami Lot

Flagler Street Renovation This Year

Downtown's growth key to drawing auto race to Miami

$19 Million Edgewater Properties Exchanged land

Russian Mining Oligarch Surges Edgewater Land Prices

PortMiami Demolishes and Revamps Outdated Warehouses

Flagler Street's Dynamic Update in Downtown Miami

Mysterious First Big Hotel Residence Project Appears in Edgewater

Miami Motorcycle Charter Moving to Wynwood

Watson Island's Groundbreaking Project Progresses

New World Trade Center Proposed at PortMiami Russian Billionaire Buys Edgewater Property

Graffiti Masterpieces Covering Wynwood Walls Offer a Rich History

Wal-Mart Snatches up Site in Midtown for $8 Million as Plans Progress

Wal-Mart Snatches up Site in Midtown for $8 Million as Plans Progress
Genting to open slots-only casino in Miami
Board rejects plans for MBay and Biscayne Beach
Brazilian airline mogul buying Edgewater land

Walking the Walk in Downtown Miami

Walking the Walk in Downtown Miami

Terra's Martin plans Design District retail project

Terra's Martin plans Design District retail project

Downtown Miami Foot Locker property on market

Hyde Midtown Coming Soon To Midtown Miami

Miami upstart stealing high-end stores from Bal Harbour

Centro Lofts Offers a Unique Downtown Miami Residential Experience: A Carless Living Space

Edgewater Neighborhood Sees Rising Land Values as Developers Rush to Purchase Parcels

Miami's Fledgling Trolley System Adds Downtown, Midtown Routes

Miami's Fledgling Trolley System Adds Downtown, Midtown Routes

Miami's Fledgling Trolley System Adds Downtown, Midtown Routes

Skyline-transforming Additions Coming to Biscayne Boulevard

Filling Station Lofts Forecloses at One-third of Original Asking Price

After Legislative Denial, Genting Returns with Condo Plans for 2014

After Legislative Denial, Genting Returns with Condo Plans for 2014

After Legislative Denial, Genting Returns with Condo Plans for 2014

Get Complete Details about Miami Condos for Sale at CondoBlackBook.com Birthday Wish Delivered And How: Houston Resident Wins $900,000 Paramount Bay Condo in Miami!
Donte Stallworth Runs Into Troubled Waters In Miami Again?
Miami's Design District Gets Its Own Haute French Connection with a Louis Vuitton Store Opening